2030 SDGs GAME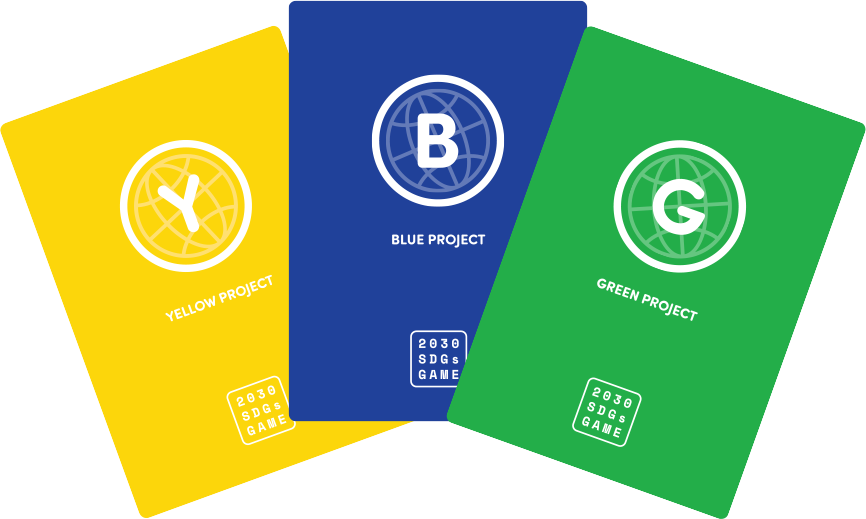 What is the 2030 SDGs game?
– An invitation to explore the world and yourself – 
The 2030 SDGs Game is a multiplayer, in-person, card-based game that simulates taking the "real world" into the year 2030.
Designed in Japan in 2016, this experience has become a powerful and impactful social phenomenon, earning extensive media coverage and reaching over 150,000 participants.
2030 SDGs Game events are held in corporate, governmental, educational, and community settings. We now have over 600 certified facilitators in Japan and around 50 globally.
Now, due to a growing demand to bring the game to the rest of the world, we have created an English edition and are beginning to introduce it to a wider audience overseas.
The game is designed to be played with anywhere from 5 to 50 players. (That number can be expanded to a maximum of around 200 with multiple parallel 'worlds' operating at the same time.)
Play time is approximately 1 hour; with the necessary explanation and reflection afterward, it requires a minimum of 2 hours, and generally works best in a 2 ½ hour time frame.
Why make it a game?
The SDGs are ambitious and can seem overwhelming, simply due to their volume and scope. While dramatic in their potential impact on the world, approaching them can be daunting.
A game approach has three powerful advantages:

It gives people a direct experience of participating in co-creating a sustainable world ("I can do it"; "what I do makes a difference.")
It simplifies and makes accessible an extremely complex issue to a level that allows people to begin to understand, while stimulating our natural curiosity to learn more.
It activates players' natural instincts to set their aim toward a worthy goal, simultaneously building confidence and making it enjoyable, while inspiring and motivating players to take action in the real world.
Can I buy the game?
For the answer to your question, please see FAQ.
How can I bring the game to my community?
We are looking for venues and community leaders who are interested in hosting us. This game is a tremendous resource and catalyst for anyone who wants to inspire, motivate, and empower your community or organization to embrace a vision of a sustainable world.
If you are interested in hosting the game, please contact us using the form below.
What are people saying about the game?
In Japan
In Caribbean
In Benin (in French)
In Australia
For more testimonials, click the button below.
How to play
The rules are simple: Players use money and time to achieve their goals by the end of the game.
What kind of goals are there?
One player might have the goal of Acquiring Wealth; for these players, money is the most important thing. For others, the most important thing might be to Enjoy Leisure, to have the freedom to relax or to spend time doing what they want. Others may want to end poverty, or to protect the environment. Just like in the real world, in this world there are diverse people with different values.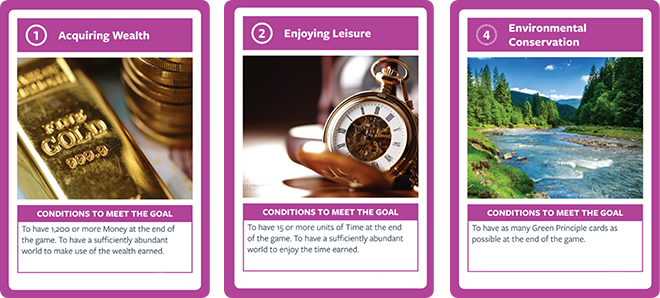 Let's look at what kind of project cards we have.
Here is a project called Build Transportation Infrastructure.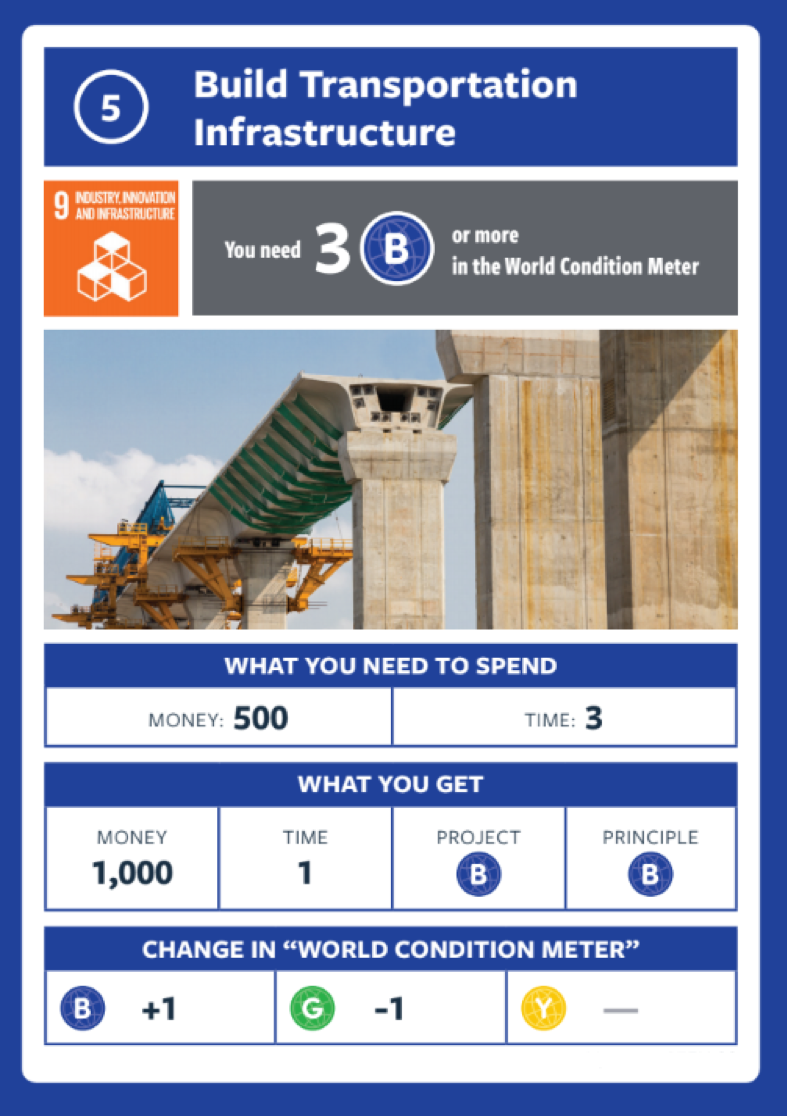 To run this project, "What you need to spend" is 500 Money cards and 3 Time cards. If transportation infrastructure is built, the economy circulates more smoothly, and travel time is shortened. As a result of running this project, "What you get" is 1000 Money, 1 Time, a new Project, and a Principle Card.
Principles are the intangible things that are nevertheless very important: think of them as a sense of fulfillment, contribution, or value. These principle cards are important to players for whom principles are more important than money or time, and who collect them as their goal.
Another important point is that every participant uses the magnets on the whiteboard as in the photo below. These magnets show the present condition of your world: Blue represents the economy, while Green stands for the environment, and Yellow stands for society.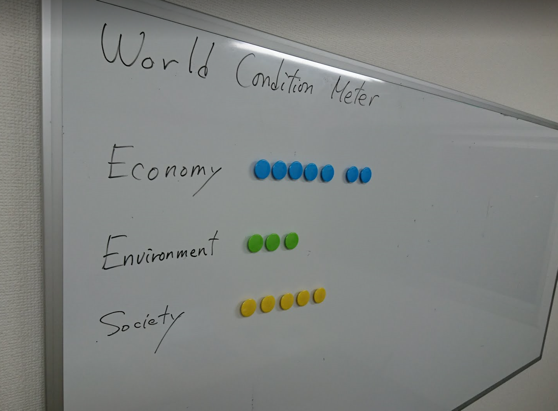 If you look at the above Build Transformation Infrastructure project card again, you can find 'Change in "World Condition Meter"' at the bottom. If you run this project, the parameters there will change accordingly.
This means that each project that the participants run will have an impact on the world, and the world of 2030 will be affected accordingly.